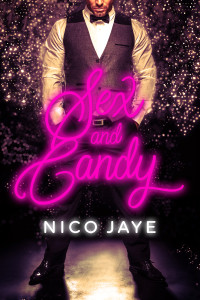 NOW AVAILABLE EXCLUSIVELY ON KINDLE AND KINDLE UNLIMITED!
Find it here: Amazon
The Sex and Candy collection is comprised of two stories: Sex and Candy and Candy Rain. Sex and Candy was previously published by JMS Books LLC. Candy Rain is a brand new companion prequel.
Sex and Candy
Lee may be in a relationship with Tony, but that little fact doesn't stop Lee when Tony agrees to allow him one wild night of no inhibitions. With excitement thrumming through his veins, Lee finds himself letting loose at Hard Candy, a popular cruise-worthy dance club known for its sweet Candymen and even sweeter one night stands. Under the club's pulsing lights, he meets a mysterious man in leather, and things soon get hot and heavy as Lee rediscovers his submissive side under the Dom's firm yet loving guidance.
When Lee returns home to Tony, though, will he face repercussions for his night of passion? Or is their relationship not quite as it appears?
Candy Rain
With a stressful week on the job behind him, construction company owner Tony Morelli is ready for a night curled up on the couch with his dog, a couple of DVDs, and some takeout to keep him company. When a few guys from his crew convince him to join them at the steamy nightclub Hard Candy, Tony's skeptical at best about his chances at having a good time. Bumping into gorgeous Lee, though, could change his mind, and they share a drink and conversation ripe with the potential to lead to so much more.
However, Tony doesn't really do casual, and he has to ask himself if all he'd be left with are sweet memories of a night with Lee–and whether those memories would ever be enough.
Sex and Candy is a collection of two short stories (13,500 words total).
Add it to your Goodreads shelf here.