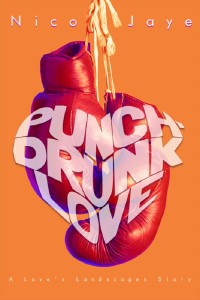 Free downloads here: Amazon | Smashwords
Goodreads M/M Romance Group's Love's Landscapes event – Punch-Drunk Love, a free short novella (15,500 words), is now available here and downloadable in multiple formats as a free ebook on Smashwords or Amazon.
Once again, this story is chock full of fluff. In this sports-themed short, college student and kickboxing competitor Oliver discovers that, thanks to a wild night in Vegas, his crush on team captain Derek may not be as unrequited as he'd assumed. Add this free m/m romance to your Goodreads shelf today!