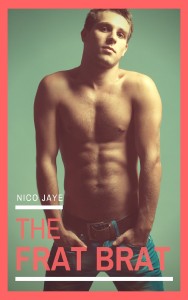 Free downloads here: Amazon | Smashwords
Goodreads M/M Romance Group's Love is an Open Road event – The Frat Brat, a free short story (10,500 words), is now available here.
PWP, y'all. Well, PWTP (porn with tiny plot). :D Frat boy Kyle is out and proud…and a shameless flirt, to boot. The focus of his efforts is new frat brother Daisuke "Dice" Keto, but Dice's reactions are cryptic at best. It'll take a lost bet–and a sexy rendevous with a "Secret Admirer"–to clarify the situation for everyone. Add this free m/m romance to your Goodreads shelf today!
Note: A free ficlet that takes place after this story is available here: Free Ficlet – The Good Ones.