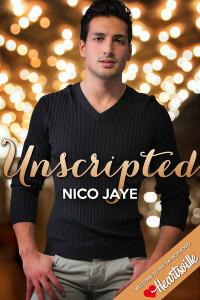 ANNOUNCEMENT: NOW AVAILABLE ON KINDLE UNLIMITED! THE ENTIRE HEARTSVILLE SERIES WILL SOON BE AVAILABLE EXCLUSIVELY ON KDP SELECT/KINDLE UNLIMITED!
Find it here: Amazon
Theater manager Teddy Carbone's life has gone pretty much according to script… until now.
To his surprise, Teddy finds himself co-owner of the Oasis Theater with Carter Monroe, a corporate shark who's looking at him like he's chum in the water. Being in charge of the theater is one thing, but having to deal with Carter and his demands is another. With Carter's proposed plan to sell the Oasis looming, Teddy must convince Carter the theater is worth saving. When Teddy introduces the bright, bold world of the stage to Carter's cold, all-business lifestyle, though, he soon comes to recognize that the Oasis might not be the only thing he has a chance to save.
Unscripted is a contemporary short novella (20,000 words).
Add it to your Goodreads shelf here.
Note: This title is part of the Heartsville series.
♥ ♥ ♥

Welcome to the gayborhood! In the cozy town of Heartsville, the streets are lined with trees, the shops are full of friendly faces, and happily ever after is just around the corner. Come get to know the boys next door—naughty, nice, and everything in between.
Other titles in the Heartsville series:
Bookmarked by Piper Vaughn
Another Shot by J.H. Knight
Clique by Jayden Brooks
Bloom Box by Cate Ashwood
Each title is a standalone and can be read in any order. Readers may enjoy the stories more, though, if reading them together due to cameo appearances and shared locations. :)